Holiday Christmas 2023 - Smoked Holiday Ham
Regular price
Sale price
$50.00 USD
Unit price
per
Sale
Sold out
Larouex Smoked Hams are cured with our savory spices with just the right amount of sweetness. It is a perfect marriage smoked with a mix of mesquite & maple wood, we go low and slow on this ham.
INCLUDED: Each ham ordered comes with our Pink Pig BBQ Sauce!
Planning your Meal
These hams after smoking weight between 5.5LBs and 7LBS. We always strive to give you the best weight, the price is based on the 5.5LB weight.
When planning how many hams you need, assume that each person will be 4-6 ounces with all of the other traditional fixings for the holiday. If you are planning on the hams being a centerpiece, assume 8 ounces per person...
12-15

Servings per person

as part of the whole holiday meal
10 Servings per person for a centerpiece meal. 
Order more, get it portioned and freeze it. These hams makes some of the best sandwiches and soups ever!
To Prepare...
Heat the oven to 275.
Rip a piece of foil that is big enough to cover the ham.
Put the ham fat side up in the middle of the foil.
Remove the string that wraps the ham. NOTE: Don't pull it up when it sticks, pull it vertical so it slides out.
Using a coarse salt, spread salt all over the ham. Our hams are not overly salty and more savory.

Gather up the foil and pack it around ham and leave a 1" x 4" vent open on the top. If you have it, add the finishing salt in the vent.
Put on a pan that catches any fat if the foil breaks.
It will take 1.5 hours or so to heat up. Use a thermometer (140-145 degrees fahrenheit) or poke a small knife in the middle and feel the tip with your lips, if it is warm, it is ready. It is fully cooked and remember you just want to reheat!
Scrap the excess salt onto a small plate and use it on the ham as you would a finishing salt.
Pink Pig BBQ Sauce is more spicy now, so put it on the ham slices as you eat it. 
These hams originate from butcher cut called the "Boston Butt". It is not trimmed or pressed and the ham will have more fat between the meat. Cut it out to your preferences and always keep a little fat as "that is flavor" and it is excellent.
PICKUP: We offer two options...
OPTION #1: Pickup at our Casa, located in South Seattle and instructions for pickup on December 20th-21st, 2023 (between 9am-5pm) and will be emailed to you. You can set your date with us after the pickup date that is convenient for you!
OPTION #2: Pickup at Microsoft on December 22nd, 2023 (between 11am-1pm) in Redmond and instructions for pickup and will be emailed to you.
Share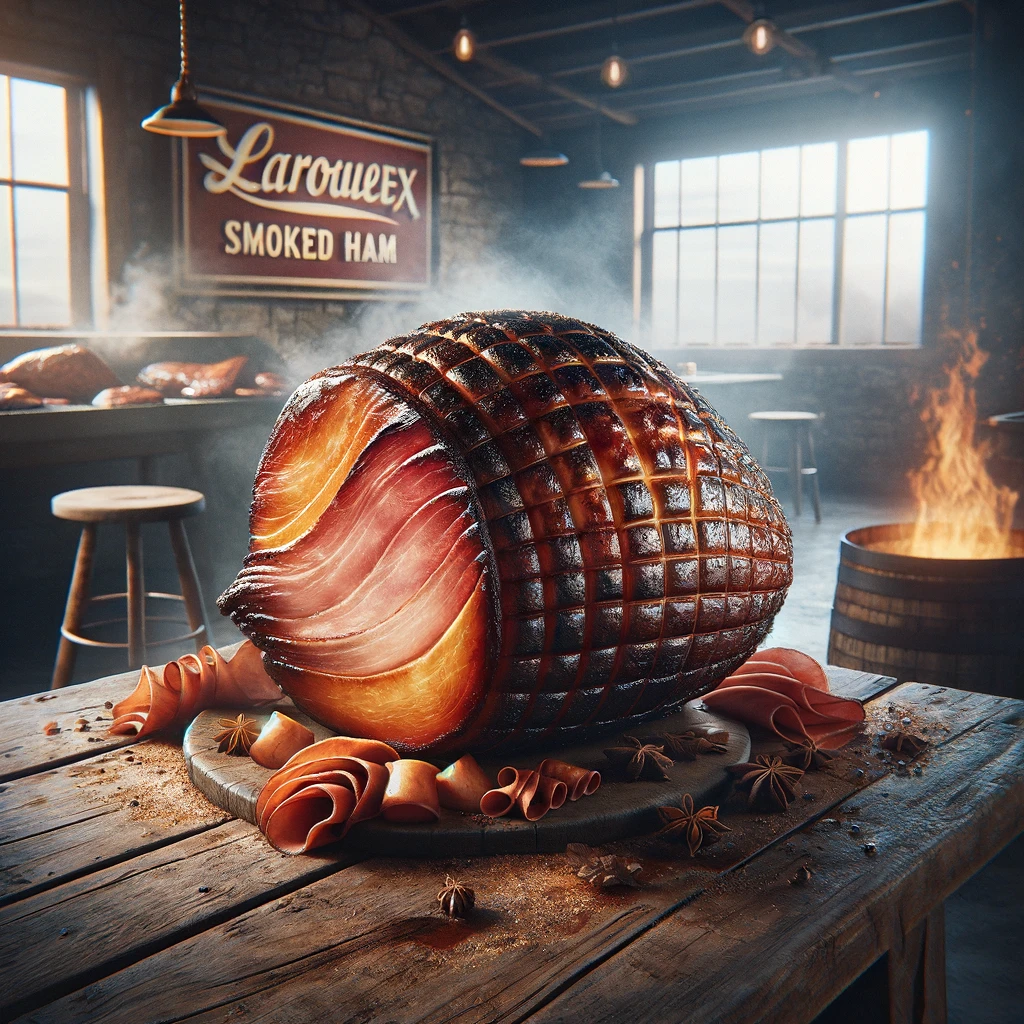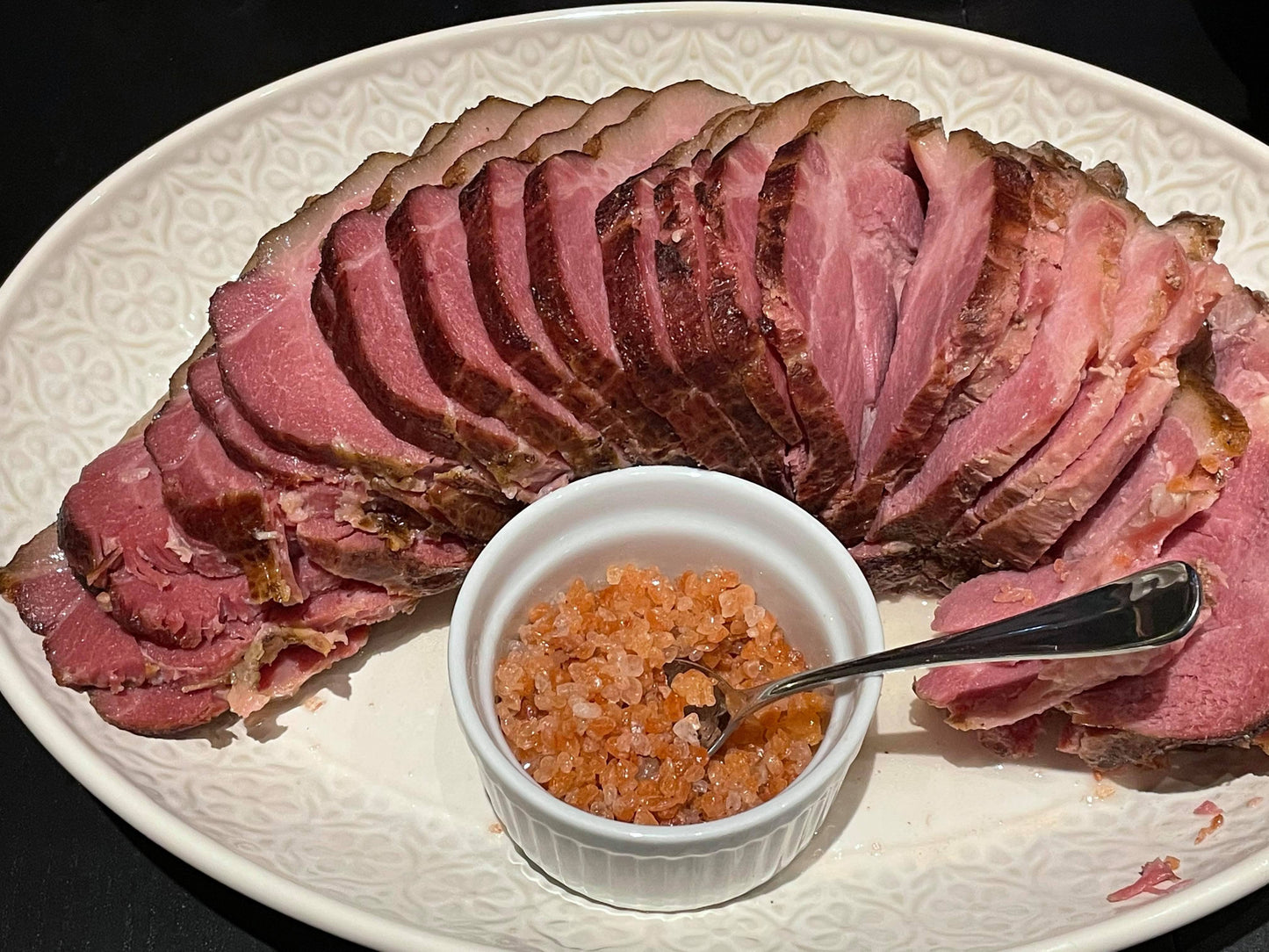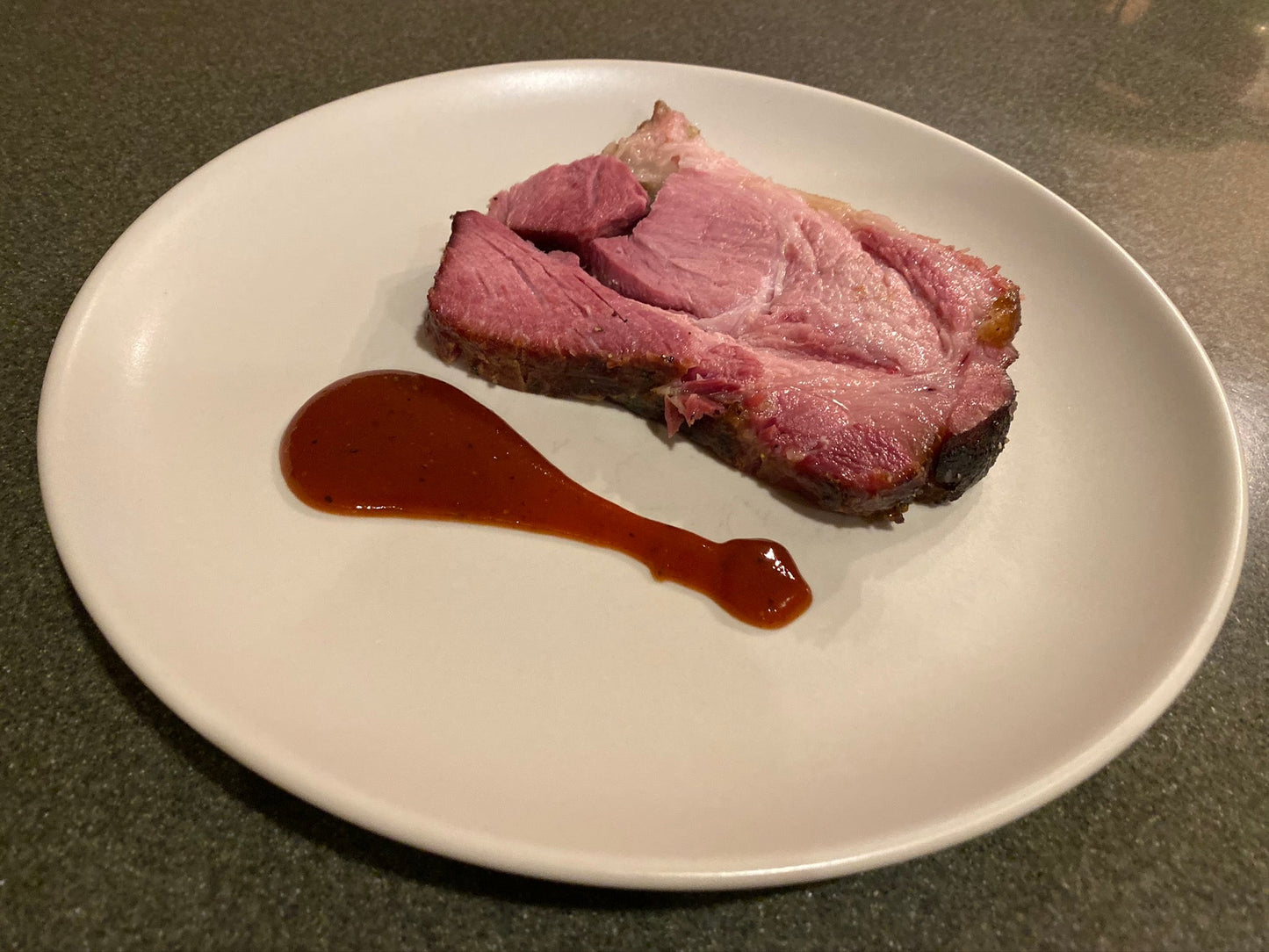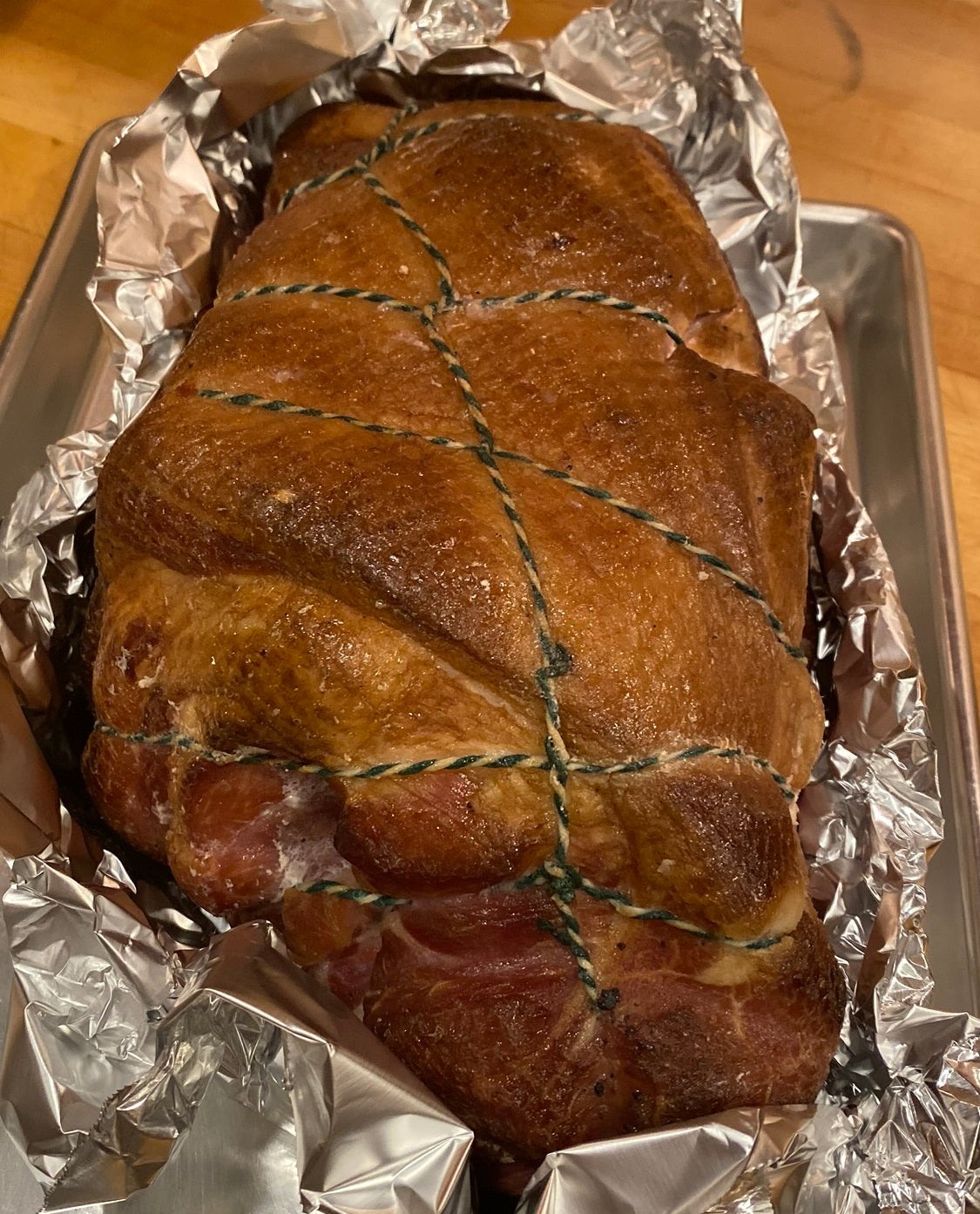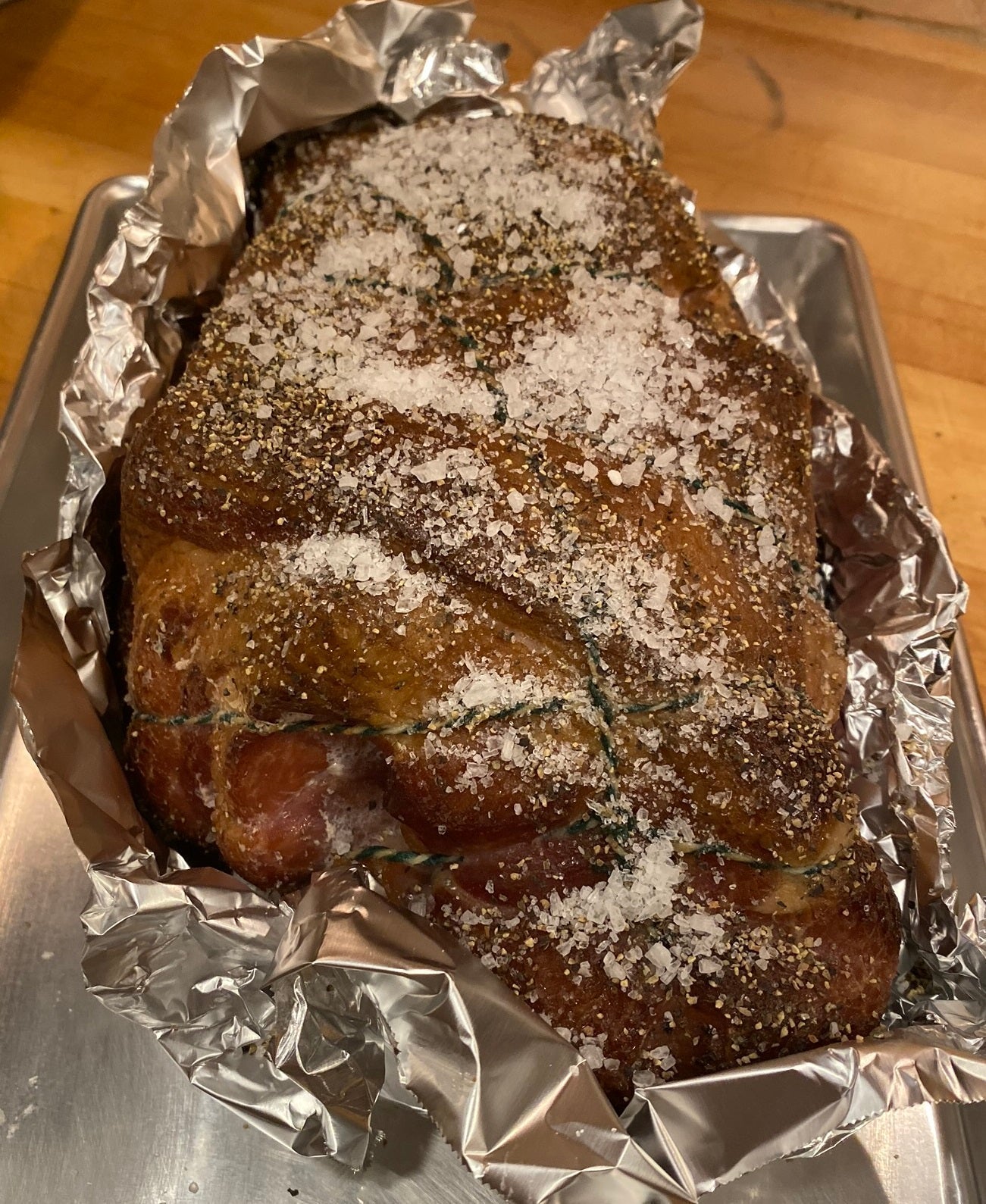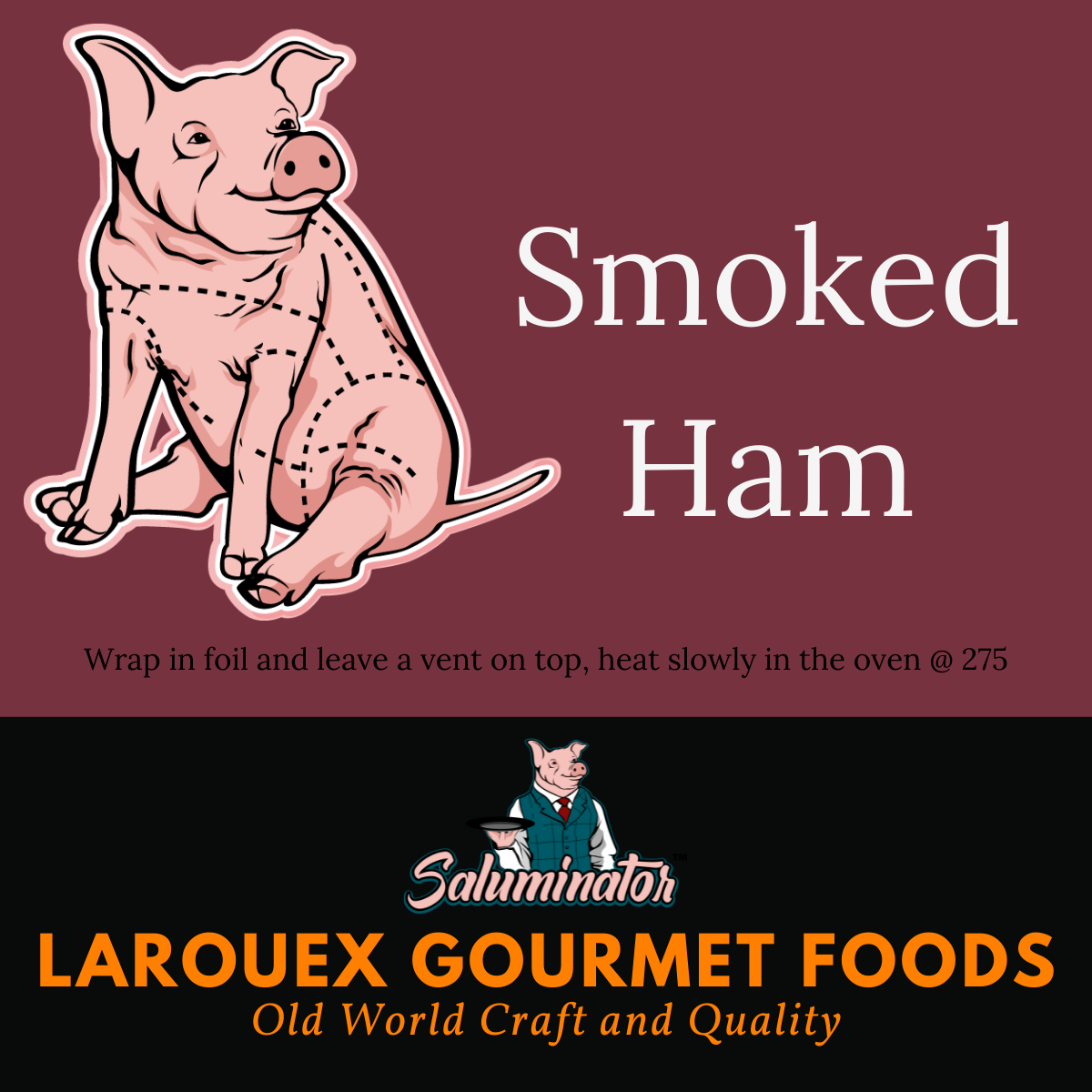 Awesome Ham!
Had one of Larouex Hams for our Thanksgiving dinner and I got a ton of complements from my guests. They all commented on how moist it was and the flavor of the smoke was outstanding!
Smoked Ham Delight!
The Thanksgiving ham from Larouex Gourmet was a hit! Flavorful and moist - such good flavor! - and we all enjoyed it! It was a welcome addition to our Thanksgiving feast - and we will make it a regular addition! Yum!